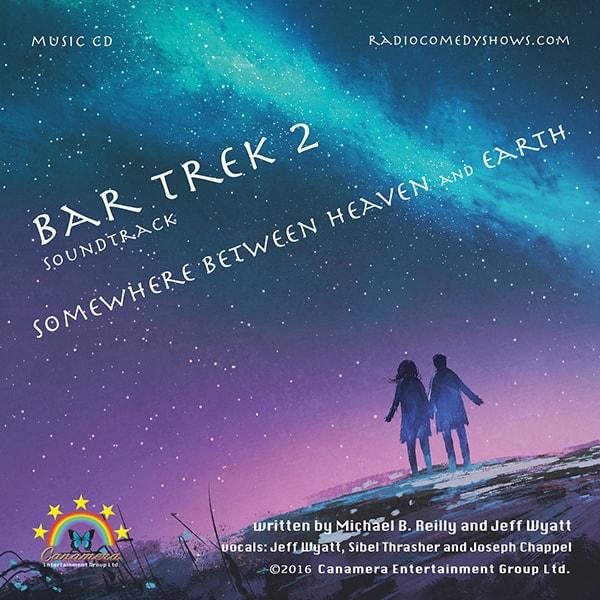 Somewhere Between Heaven
&

Earth (Musical Soundtrack)
"Between Heaven And Earth" is the Musical Soundtrack for The Audio Comedy "Bar Trek 2 ".
The first song "Power Of The Beat" is a mixture of musical genres that includes Rock, Blues , R & B, Soul and a little bit of Salsa. This song is about the fact that Music is the international language and that Music can change your mood and take you away from your day to day problems .

"Somewhere Between Heaven And Earth" is a Spiritual song with a message and it asks us to examine what we are doing with our lives . This song has moving music by Jeff Wyatt and the vocals are powerfully delivered by well known veteran singer Joseph Chappel.

"Your Kisses" . I was inspired to write this song as a result of my love and admiration of the Music of "Sade". The Song is meant to have a Tropical feel and it is a song about a woman who doesn't know as much as she would like to about a man with whom she is deeply in Love with. Wonderful Guitar , Sax and Keyboard work by Jeff Wyatt And beautiful and sensual vocals by the unique voice of Sibel Thrasher .

"Living Under Capricorn". This song explores the idea that that we may be reborn at some future time and that we may re-connect with our Soul Mates from a previous Life. This is the soulful voice of Joseph Chappel blending the past, present and future with inspired Music created by Jeff Wyatt that has a Broadway Musical feel to it.

Well I ran out of space to write so the rest of the songs are left for you to explore . We hope you enjoy this eclectic mix of songs as much as we enjoyed creating them for you. Michael B. Reilly .